Fitting and use of your climbing skins
Fitting your skins is easy and will take less than a half hour. If you feel it's more than you want to take on, bring them to a backcountry specialty store, or get help from an experienced friend. There are two steps to fitting your skins, the first is FITTING FOR LENGTH, and the second is FITTING FOR WIDTH. Your untrimmed skins should be as wide or wider than your ski or splitboard from the tail to at least ⅔ of the way to the tip. The step below will walk you through how to fit your skins. Always set the length first!
DOWNLOAD INSTRUCTIONS FOR OUR SKINS
Lost your instructions? We got you.
How to fit your Rover and Endurance Ski Skins
Your Rover or Endurance ski skins come with a set of directions and template for you to follow in order to cut and assemble your new skins. However, if you are more of a visual learner then just follow along with this video to achieve the perfect fit.
How to fit your Rambler and Persistence Splitboard Skins
The most effective way to trim your splitboard skins correctly is to follow the directions on the instructions sheet that is provided with your purchase. However, if you are more of a visual learner then just follow along with this video to achieve the perfect fit.
VIEW OUR STEP BY STEP O.G. TRIM INSTRUCTIONS
Follow these simple steps for a perfect fit
1. Cut the tab
---
Illustration shows plush side up.
1. Leave protective paper on glue side for this operation.
2. Cut the bottom of the skin the width of the wire clip.
3. You need a section 2.5″ wide and 6″ long at the tail to connect the clip.
4. The skin will double back on itself to secure the tail clip.
2. Attach the tail ring connector ring
---
1. Remove enough of the protective paper to enable you to fold the tab back onto the skin base, securing the tail clip.
3. Stretch skin over ski base
---
1. Hook the connecting ring over your ski tail and stretch the skin out over your ski base.
2. Your skins will be wider than your skis.
3. After we fit the length, we'll adjust the width.
4. Measure skin for length
---
1. Attach the stretcher to your tip.
2. Pull the skin tight and make a mark .25 to .50 inches below the bottom of the skin loop (as pictured).
3. Use your template to trim your skin down to the width of your tip loop.
4. Run your skin through the tip loop and stick back on itself glue-to-glue to secure the tip connector.
5. Trim the Tip Tab
---
1. Cut out the tip tab as shown.
2. Leave a 4″ to 6″ tab that will double back through the stretcher loop.
6. Connect Tensioner
---
1. Remove enough backing material to fold the tail tab through the tensioner ring .
2. Double it back along the base.
3. There should be slight tension. If not, readjust.
BSMP PRO TIP
What If I Have Twin Tips?
If you're buying skins for twin tips, follow these instructions exactly, but place your metal wire on the tip of your ski and your rubber stretcher on the tail.
Your skins are now adjusted to length
Next up // Fitting to Width
After setting the skin length you will need to trim the skin width. Your skins should hang over the side of most of, if not your entire ski. We will trim this excess material revealing just your ski edges. Please follow the following steps for a perfect fit.
DURING THIS PROCESS HANDLE THE SKINS CAREFULLY SO AS NOT TO CONTAMINATE THE GLUE.
Here's what we are going to do: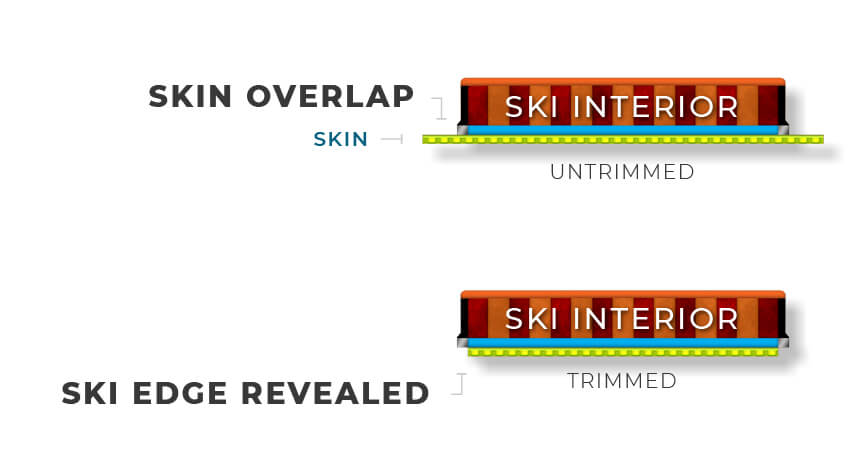 1. Center skin on the ski
---
1. Carefully peel off the protective backing material and center the skin on your ski.
2. To verify center measure to ensure the overlap on each side is the same.
3. We recommend measuring to ensure you are centered, but you can also eyeball it.
2. Trim one skin edge
---
1. Now, starting at the tip and using the ski edge as a guide pull the cutter down the length of the ski removing the excess skin from that side.
2. Peel the skin off of the ski and lay it back down with ¼" of the skin edge you just cut hanging over the side of the ski edge.
3. Trim this skin edge flush with the edge of your ski one more time.
3. Cut the other side
---
1. Now stick the skin back to your ski with ⅛" of your ski base revealed on the side that you just trimmed.
2. Again, starting at the tip and using the ski edge as a guide pull the cutter down the length of the ski removing the excess skin from the opposite side.
3. Keep pressure on the cutter against your edge as you pull.
4. Trimming Complete
---

1. Now apply your skins centered on the ski as you normally would for touring. The edges should now both be exposed and you should have a slight tension on the tail connector.
BSMP PRO TIP
WHAT IF I USE MY SKINS ON MULTIPLE SKIS OR BOARDS OF DIFFERENT LENGTHS AND WIDTH?
Both  Rover and O.G. skin packages can accommodate skis or boards of similar width that are within about 15cm of each other in length. Just cut your tip/tail tabs to fit your shortest ski, BUT leave the length of the tab long enough to adjust to your longer skis. Rover tails are adjustable to around 8cm. So, if you leave a long tab in your tip, you can achieve around 18cm of adjustment with your skins. If your gear is significantly different in length or width, you'll need a set of skins for each. This is common to all skins.
NOW YOU'RE READY TO FOR YOUR NEXT ADVENTURE
LAST STEP // TAKE CARE OF YOUR CLIMBING SKINS
CARE & UsE For Your Skins
Rules for climbing skin care and use:
Dry skins out overnight after each use
If you can, it's best to peel your skins apart and leave them drying with the glue exposed. Be sure not to leave them too close to a heat source such as a wood stove, as excess heat could ruin your glue.
Keep the glue surface free of contaminants
A little dirt or dog hair won't ruin our glue, but it is generally advised that you do your best to keep it clean.
Keep your skis tuned and waxed
While our glue is manufactured to stand up to just about anything, it performs at its best when your ski bases are well cared for. Dry, white bases in particular can encourage the glue to peel.
Following these guidelines to protect youR skins and give them their longest lifespan.
Related Backcountry Topics
AVALANCHE SAFETY INFO & VIDEOS
Backcountry Skinning Techniques
FREQUENTLY ASKED QUESTIONS