Climbing Skins Reviews from Around The Industry
Industry Reviews
PRODUCT REVIEWS BY INDUSTRY LEADERS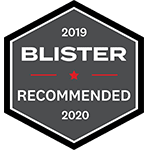 "This skin glides as well as any nylon we've been on, and offers plenty of grip, too. But the real strength of this skin (other than its price) is durability. We spent a long winter of backcountry skiing on a single pair of these – including a few spring missions where we skinned over logs, rocks, and dirt – and both the glue and plush are still functioning flawlessly. For getting the most performance for the money, the BSMP skins are hard to beat."
– 2019/2020 BLISTER WINTER BUYER'S GUIDE

"Bottom line, if you're looking for some grippy skins that are easy on the wallet, definitely give Big Sky Mountain Products some serious consideration."
– HIKEFORPOW(DER) | 2019

"BSMP engineers the plush component to have a fiber stiffness and angle that helps give it a mohair-like glide, but with the high-quality grip that nylon is known for."
– FREESKIER | 2019

"Big Sky Mountain Products probably isn't the first name that you think of when it comes to climbing skins. But for getting the most performance for your money, they might just be the best skins we've used"
– BLISTER GEAR REVIEW | 2018
FREQUENTLY ASKED QUESTIONS
WHAT IF I WANT TO USE MY OWN TIP AND TAIL CONNECTORS?
We sell a product just for you! Check our our clipless option…
WHAT WIDTH OF SKIN DO I WANT?
We recommend that customers use the tail width of their skis as a reference for a standard skin fit. So, if the tail of your ski is 110mm wide, we would suggest a 115mm skin. For those who desire extra grip, purchase a skin wide enough to cover the entirety of your tip. For those desiring extra glide, get a skinnier skin based on your ski's width underfoot and cut the skin straight to reveal more base at your tip and tail.
THE TIPS OF MY SKIS ARE REALLY WIDE/FLAT, WILL YOUR TIP CONNECTOR STILL WORK?
Absolutely! Our tip connectors are designed to work universally by slipping the notch of the connector over your tip rather than encapsulating the entirety of the tip within the clip. This is a secure and easy-to-use system no matter the shape of your skis.
Do I need cheat sheets for my skins?
You do not! The majority of our customers prefer their skins "naked". However, if you'd like to eliminate the strain of pulling your skins apart, our cheat sheets are for you.
Do I need extra material on my skin to utilize standard clips?
Not really. These clips add about 7 centimeters of length, and only need a few extra centimeters of skin length to rivet the skin back to itself. So, as long as your skin pulls tight on your ski within a few centimeters of your tip, you should be fine.
How do I best utilize skin wax to maximize skin glide?
Rub your wax into the skin plush heavily both with and against the fibers. With our nylon, don't worry about ruining the fibers, they can handle some pushing and pulling. Then, turn your ski waxing iron on low and run it over your plush until the wax melts in nice and smooth.
Can I use wire clips on both ends of my skin?
You cannot. At least one skin clip must be dynamic in order to tighten the skin down to the ski.
Are my Quick-Snap tail connectors easily replaceable if they break?
Our Quick-Snap tail connectors are riveted on so they are not easily replaceable in the backcountry. Want to know why? Because they don't break on you in the backcountry! Rest assured, no need to bring spare parts with you on missions anymore – these connectors have your back.
Does the Quick-snap connectors work for twin tips?
These connectors do work for twin tips and are ideal if you hope to use them for multiple pairs of skis. However, your adjustment needs to be just right for a secure fit. For an easier twin tip fit, check out our Standard Clip & Wire options.